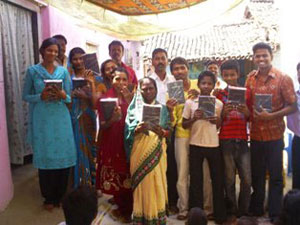 Romans 15:20
"yea, making it my aim so to preach the gospel, not where Christ was already named, that I might not build upon another man's foundation;"
We have a great pleasure in introducing our ministry and God given responsibility to esteemed people like you who are precious in the sight God. Heaving moved by the love of God based on Romans 15:20, we began this missionary movement to reach the unreached people with the gospel of Christ. 
We prayerfully began this ministry in 2002 by distributing tracts and witnessing Christ at villages in Tamil Nadu. As a result of our ministry, some villagers positively responded to the gospel and accepted Jesus Christ as their Lord and Savior and they sincerely requested us to start regular worship on Sundays and to construct churches in their villages. By the prayers of many friends, God enabled us to send and to support trained missionaries in those villages and to build churches.

Mission
{AF}Preaching Jesus Christ in every unreached remote village of India and establishing

Ministry
Before sending a missionary to a new village where there is no church, our team first